Patent MarketPlace: E-Cigarette Patents & Vaping Technology for Sale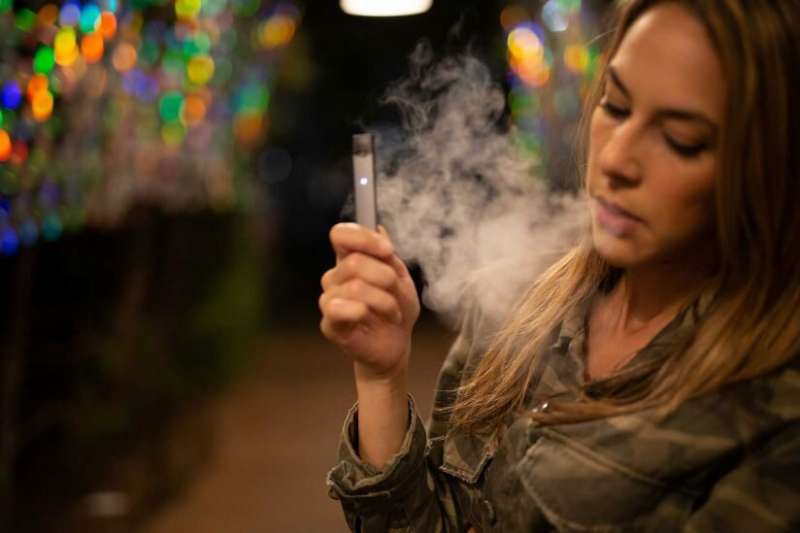 E-Cigarette/Cell Phone Carrying/Charging Case (Gibson): U.S. Patent No. 10,966,463
Over five million Americans spent just over $6 billion on e-cigarettes in 2020, while world-wide sales of e-cigarettes was $17 billion over the same period. Smoking an e-cigarette – or "vaping" – has significantly different dynamics than smoking a traditional cigarette. An e-cigarette is an electronic device, so e-cigarette smokers have to deal with a battery. When the e-cigarette's battery dies, it has to be removed and placed in a re-charger. And unless the e-cigarette user is carrying a spare battery, the e-cigarette cannot be smoked until its battery is re-charged and placed back in the e-cigarette. Not very convenient.
This patent addresses that issue by creating a case to hold both the smoker's smart phone and his or her e-cigarette. While it is inserted in the case, the e-cigarette's battery is constantly being charged, so the owner can smoke his or her e-cigarette at any time and does not have to deal with a dead battery. In fact, the e-smoker can enjoy his or her e-cigarette while it is still in the case because the cartridge plugs into the case and allows the user to continue to smoke while the battery charges. Additionally, the case can be configured to charge the smart phone! Now that's convenient!
U.S. Patent No. 10,966,463 for an "Electronic cigarette phone case with battery" takes vaping to a new level of convenience. Storing an e-cigarette in a case with that person's smart phone greatly reduces time spent looking for where his or her e-cigarette was left. The user's e-cigarette is always available and always charged. This patent would be an excellent acquisition for any e-cigarette manufacturer or supplier of e-cigarette accessories.
Patent Brokerage Prospectus: Contact [email protected] to receive an analysis of each portfolio that includes:
Executive Summary


Patent Overview and History


Technology and Investment Summary


Market Research


Company Analysis


Illustrative Evidence of Use (if applicable)
We offer patents in these technologies: