Patent MarketPlace: Consumer Products Patents and Trademarks for Sale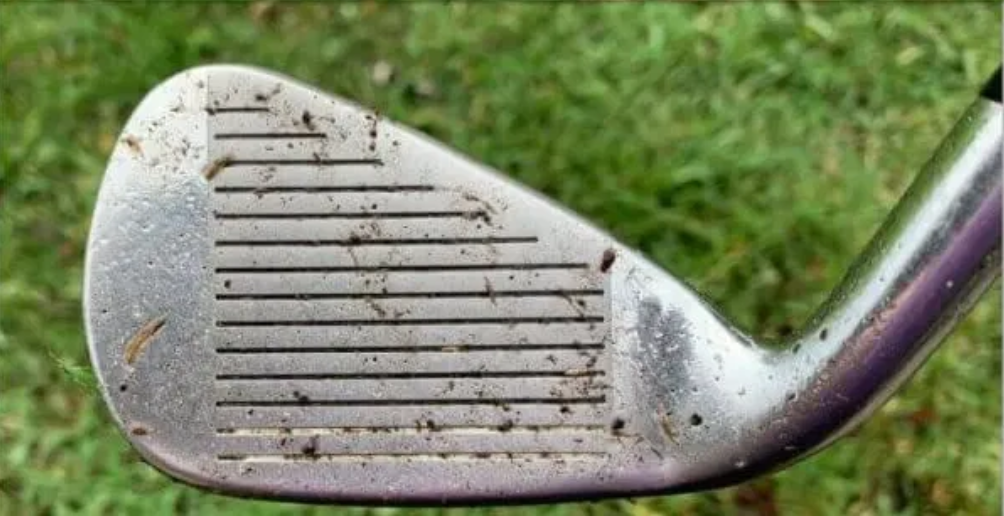 A Better Golf Club Cleaner (Loftus): U.S. Patent No. 10,258,847
Every golfer knows that he must keep his golf clubs clean. Dirt on the surface of the golf club head – especially dirt in the grooves – interferes with a clean strike of the ball. And let's face it. Every golfer will do whatever she can do to improve her game! Some golf clubs offer buckets of soapy water that the golfers can dip their clubs into, but they do not really do a very effective job of really cleaning the head of the club. What is needed is a compact, affordable, and effective device that will quickly and thoroughly clean golf club heads.
That is exactly what this patent does. It creates a compact device with a cover into which the head of the golf club is inserted, and a combination of soapy water and brushes cleans the golf head. When the golf club is removed, the cover retracts so the water in the device stays clean and does not collect dead bugs and other debris. This patent can be used to create a commercial product for use by golf courses and driving ranges, or a consumer product for personal use. U.S. Patent No. 10,258,847 for a "Golf club cleaning device and method of use" would be a strategic acquisition for any business that is currently supplying products to the golfing community and is looking for a new product category with patent protection through 2036!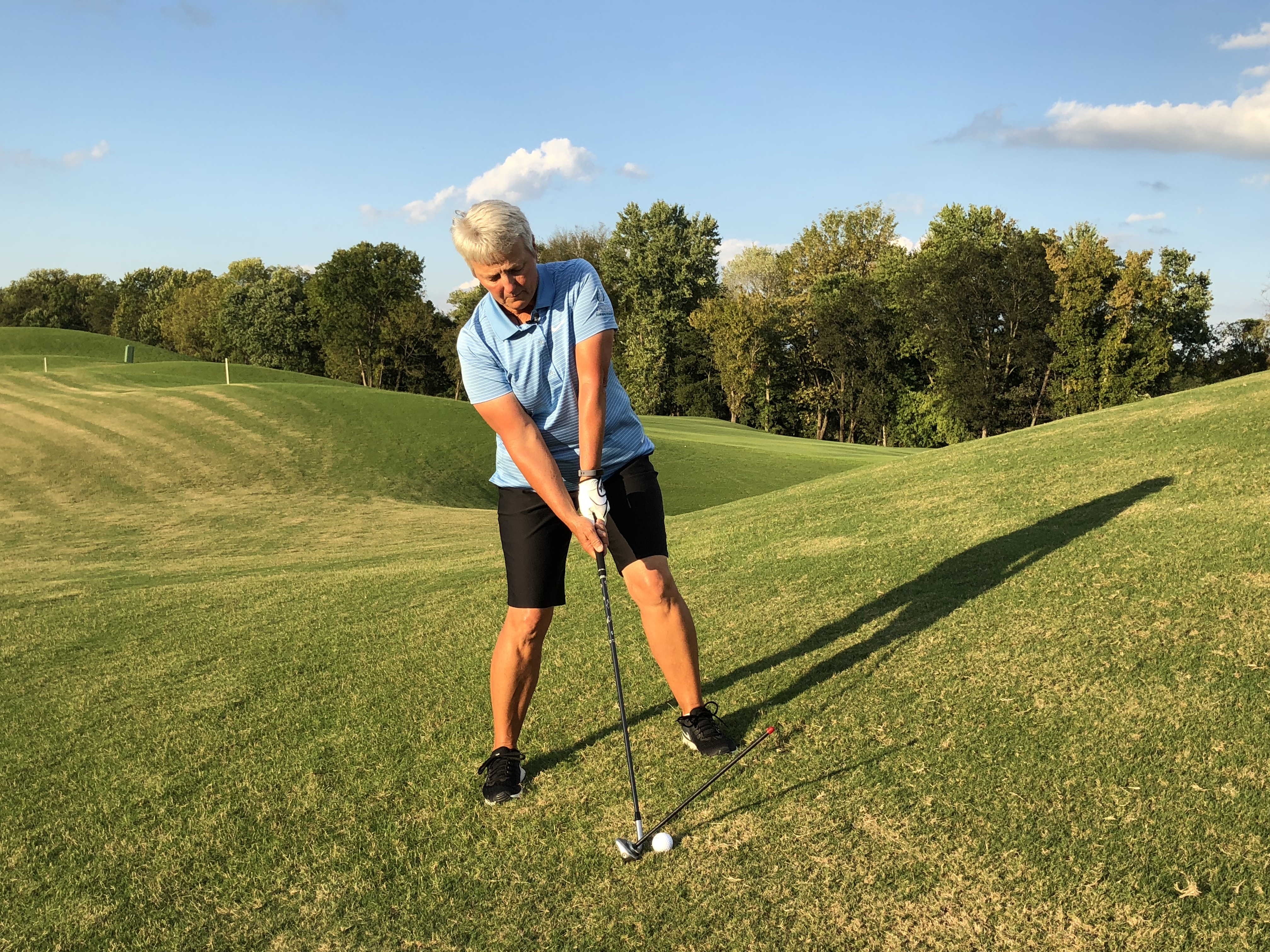 Multi-Terrain Golf-Swing Practice Surface (Loftus): U.S. Patent and Trademark Application
When a golfer practices his swing at a drive range there is just one major drawback: The driving range surface is flat. That would be ideal practice if all the courses he played were also flat, but that's not the case. For truly effective golf-swing practice, a golfer needs to practice on all of the types of surfaces she will be playing on – uphill, downhill, across the upside of a hill, and across the downside of a hill.
This patent addresses exactly that need. It creates a golf-swing practice surface that simulates all the lies a golfer faces – hitting downhill or hitting uphill, and hitting across the upside or, or hitting across downside, of an incline. The device has a base area that is lower than the perimeter sides that slope up from the base, creating a flat surface surrounded by four sloping surfaces. The Field Fairway, a brand the inventor created for the product derived from this patent, can be used in the golfer's backyard to simulate hitting balls in the rough. U.S. Patent No. 10,786,723 for a "Golf practice device, and method of practicing golf swings by hitting golf balls from replicated sloping topographical conditions, which includes side-hill lies, up-hill lies and/or down-hill lies, encountered on a golf course, off of a simulated fairway and/or a simulated rough" gives any company selling golfing products the ability to introduce a totally new product concept with patent protection for the next 18 years! Also available for acquisition is U.S. Trademark Application 88680435 for "The Field Fairway."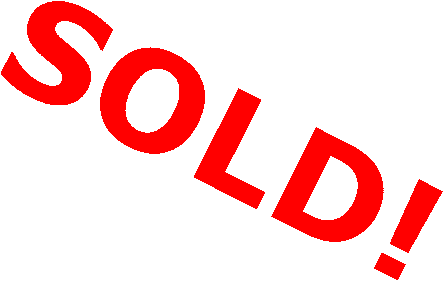 Body-Inflatable Doll (iPlush): U.S. Patent No. 6,960,113
There are inflatable dolls in which the entire doll – including the arms, legs, and other appendages – are inflated at the same time. They are essentially a large balloon. Then there are stuffed dolls in which the insides of the doll are filled with a soft and flexible mass at the factory. Inflatable dolls lack the soft touch and feel of stuffed dolls, but they are cheaper to ship and store. Stuffed dollars are warm and fuzzy, but are expensive to store and ship. This patent creates a solution. It creates a warm and fuzzy doll that is shipped flat to save on space and costs. Just the body of the doll – not the arms, legs, and appendages – are inflated to create a large, lovable, doll or toy of any size, shape, configuration, or theme.
U.S. Patent No. 6,960,113 for an "Inflatable plush toy" is currently being used to create just such a line of inflatable dolls and toys. Two Claim Charts are available upon request that illustrate evidence-of-use by a national retailer and a major importer of children's toys.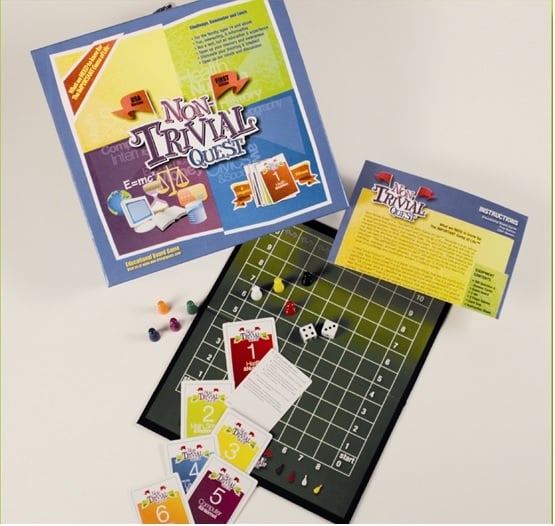 Non-Trivia Board Game (Arduini): U.S. Patent No. 8,985,583
Money Magazine ranks Trivial Pursuit as the seventh best-selling board game of all time. This patent creates a board game that is the alter-ego of Trivial Pursuit and that could become its major competitor. This patent describes a "non-trivia" board game in which the questions are not about pop culture, but about everyday stuff that each of us needs to know. The question cards include hidden answers that can be viewed through a polarized filter that slides over the card. The game includes different sets of rules that determine the speed of the game, its difficulty, how many dice are used, use of different tokens, and different playing lanes on the board. The patent includes a card container with finger wells for cards, and a detailed description of the answer to each question is provided so players can gain depth of knowledge and greater understanding of the subjects covered by the game, and stimulate more interest in, and understanding of, the subject!
In addition to U.S. Patent No. 8,985,583 for a "Non-trivia game and method of play," the U.S. Trademark for Non-Trivia Quest® and other IP is also available for acquisition. The company that acquires this patent and trademark will have an exciting new board game that is ready to go to market!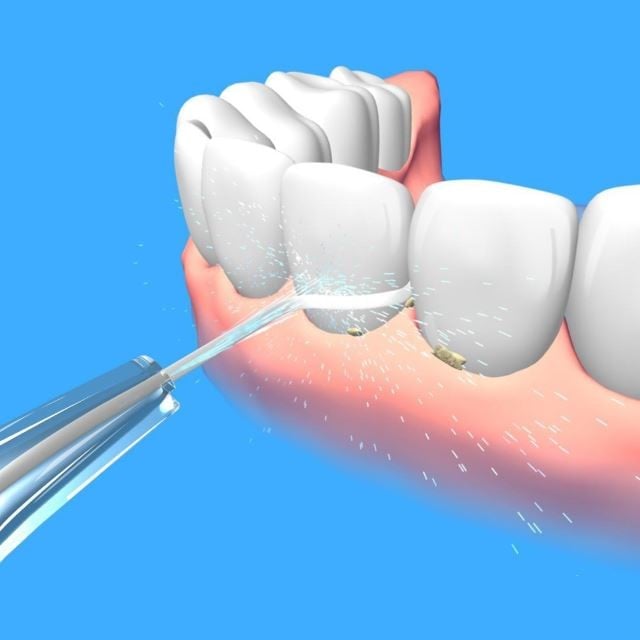 Water Pick/Flosser that You Just Pick Up and Use (Zhang): U.S. Patent No. 10,064,710
We have to floss. We all get it. And using a water pick to floss and clean between your teeth is very effective and contributes to dental health. No argument. But setting up all that equipment? You have to find a place to put it, fill the tank with water, and then find a place to plug it in. Once you are done, you have to empty the tank, unplug it, and put it away. Really? Who has time for that?
Someone should invent a water pick that you just pick up and use. NO tank to fill and then have to empty. NO device to find a place for, and then find a place to plug it in. NO equipment to have to put away when you are done. Someone ought to invent an effective and affordable water pick and flossing tool that you just pick up like a toothbrush, use it to clean thoroughly between your teeth and gums, and then just put it back when you are done so you can go on about your busy life! Why doesn't someone invent something like that?
Someone did! U.S. Patent No. 10,064,710 for an "Oral Hygiene Apparatus" creates a tooth-flossing tool that attaches to the water line coming into your bathroom sink. You just pick it up and use it. And when you are done, you put it back and walk away! Nothing to make room for in your bathroom. No tank to fill. No tank to empty. Nothing to plug in. Nothing to unplug! No batteries to replace. No machine to put away when you are done! Based on the technology behind the spray attachment on a kitchen sink, this water pick and flossing tool uses the water pressure going into the bathroom sink to create a powerful jet spray that cleans between your teeth and gums. Just pick it up and use it as you would your toothbrush. And put it away when you're done!
The invention can be configured with multiple heads for multiple users, or it can be configured to have multiple units at a single sink. This patent would be a critical acquisition for any oral hygiene products manufacturer looking to create and own a new market segment, or an opportunity for any bathroom fixtures company to create and own a new bathroom sink product line!
Patent Brokerage Prospectus: Contact [email protected] to receive an analysis of each portfolio that includes:
Executive Summary


Patent Overview and History


Technology and Investment Summary


Market Research


Company Analysis


Illustrative Evidence of Use (if applicable)
We offer patents in these technologies: